Becky

The state social worker who served as the agent for the adoption of Taanya became dear friends of Gail and Denvy, and told them that when they were ready she would support the adoption of another child. In the dead of the winter of 1980, the phone came that there was a three-year old available for adoption. They visited her at the adoption agency and took her out for the day, playing on the snow covered playground as they watched the Fur Rendezvous sled dog race go by.
They were offered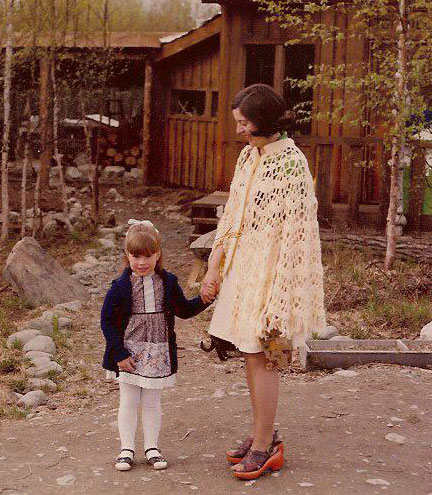 a second opportunity to visit Becky this time at their home for an overnight. Then they could decide. This time Denvy acknowledged that they could observe favorable or unfavorable behavior, but if they said no what would this do to the hopes of Becky's future. They said they would take her home only to stay and a week later they did.
The ladies of the community arranged a welcome to Trapper Creek party and she received a t-shirt which said "I'm Becky Saxowsky." Becky had many adjustments to make after years of lack of proper nurturing. After several months she announced that she was ready to move on to her next home. Denvy said, "I'm sorry, but this is your home forever. You are a part of this family."
Becky came with her own background, including her name Rebecca Gail, which delighted Gail to no end. Becky was born Kathryn Day. She was relinquished at six months by her birth mother, adopted and renamed. At about three her adopting parents turned her over to the state as possibly retarded. She lived as a foster child until she was adopted a Saxowsky.


Routine Moves In
As the third year in Trapper Creek, a routine was established. There was snow to shovel in the winter and garden to maintain in the summer. Baby animals arrived in the spring and butchering occurred in the the fall. The gathering of salmon, hay and firewood occupied the warmer months in preparation for the harsher winter months. Meetings for the school and community became a part of
life.
Food came from the land but there's always a need for cash flow and that came with wooden toys and other items and groceries. Throughout the summer and fall, right up to winter, Denvy and Gail would load the red van and/or yellow Datsun with toys, displays, children and sometimes literally kids to sell toys and wood products at fairs, bazaars and crafts shows. The store was busy throughout the tourist summer but essentially closed in the winter.
Once a month Gail and Denvy would spread the word that they were about to send in an order for groceries, sometimes caselot like in any store and sometimes bulk from a health food store in Seattle. Those 30-pound wheels of Jarlsberg cheese were so good, not to mention the 20-pound box of chocolate chips. Yes, they came from a health food warehouse. The 5% surcharge above wholesale costs was a bargain for the neighbors and a supplement for the Saxowskys.




Rustic but Restful


Taxes were not a burden for the Saxowskys, their income never exceeded the minimums for poverty very often. Meals were shared by the entire family with plenty of fresh food. Recreation was always available just outside the door whether it was skiing, fishing or enjoying a unique display of Northern Lights in the middle of the night. Zoo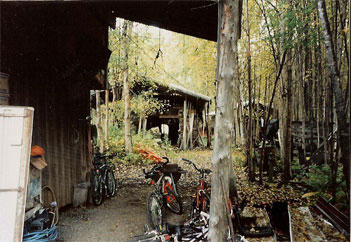 s were not necessary as the bears and moose roamed through the yard often enough to keep one alert. Friends would stop by unannounced and the Saxowskys reciprocated in return. Rhubarb pie and tea was always ready for a guest. Customers came from around the world and brought with them their stories. Life was good, no, it was great.