Marc and Tina


In August of '95 Denvy and Gail went to Portland to visit Marc and Tina. Gail and Tina went garage saling while Denvy and Marc went in another direction, which Tina thought was to look at computers, but were actually looking at clarity and carets. Several days later around Tina's birthday Marc presented an engagement ring.
On July 26, 1996, Denvy and Gail sat proudly among friends and family, as Darron and Becky stood and supported Marc and Tina as they entered their married life in Rock Springs, Wyoming, Tina's home.



The House


When Gail spotted the land in Oregon where she and Denvy would live, she reported an idyllic setting with the exception of an old trailer house. The plan was to build in a couple years. Because Denvy had not found a job, they decided to start immediately, so by April '96, a hole in the ground for the new house was dug. Parts of the hole were very big as it was determined that the building site was on a landslide area and a special footing was required.
Friends from the church came and helped pour the concrete foundation. The framing Denvy did pretty much himself. One Sunday the minister, Gerry Hill, announced that anyone who wanted to, could come and help build that afternoon. This was a surprise for Denvy and Gail and so they had to rush home and plan a plan. Hours later there were people crawling all around the house nailing down the roof.
The shingles were in process in December when rains turned very heavy. With that weather and the steep roofs, Denvy and Gail hired a contractor to roof the house. They were inside for the remainder of the winter.



Denvy Gets a Job


Denvy checked in with Chemeketa Community College for a job teaching math and did find a couple classes to teach. He also turned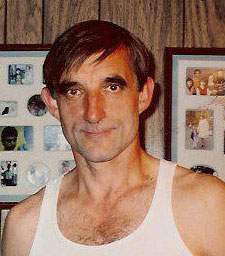 to Western Oregon University to start taking classes for a Masters in Education. The connection with the lumber yard through building the house, also turned up a part-time job as a salesperson. This required that Denvy had to shave. At least he had something to do.
Gail's one year contract with Chemeketa to cover for someone who was on sabbatical ended and she started working for a hospice organization. Fortunately the job at Chemeketa opened up again in about six months and Gail was back at Chemeketa as well.