Saxowsky Family Reunion


Near the end of June most of the descendants of Erwin and Erna Saxowsky, some cousins and some second cousins gathered on the farm where we as kids grew up and is now the home of brother George and his wife Karen. Families came from Washington, Oregon, Arizona, California, Minnesota, Wisconsin, South Dakota and, of course, North Dakota. Each of the five children of Erwin and Erna chose a color for t-shirts for their extanded family so we could keep track of who's responsible for which kids. Cousins Cheryl and Barbara nee Benike and Harland Saxowsky and his wife Teresea joined us for the entire weekend while several second cousins from the area came by for a visit. Among the second cousins were Jacob and Robert Schmalenberger and Allen's wife Georgia nee Messer, and Pam Kostecky and her son Christian, descendants of the Sax Motor branch of the family.
Meals were designed by some of the younger generation and shared under the shelter of the barn which no longer houses cattle. In the barn also were relics of years past which disappeared to the homes of some interested family members. The badly damaged mandolin was picked up by Gail and Marc who had it reparied as a Christmas gift to me. Some of the group, mostly the kids with lots of energy, hiked up to the "big hill" as we called it as kids. Some everyone jumped into vehicles to be ferried up to Spitzberg for the traditional climb. Sunday morning after a breakfast, families wrapped up their tents and closed down their RVs to head home.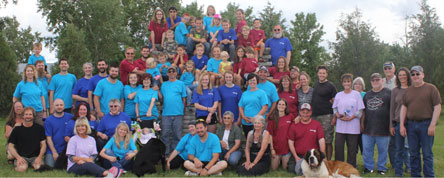 Free Clinic, Homeless and More


Back in Oregon the routine continued which as retirees should be more traveling and yard work but instead focuses on free medical care for uninsured and under-insured at the Polk Community Free Clinic which Gail manages at Trinity Lutheran two Saturday mornings a month and supporting families without homes by providing housing and meals a week at a time at Christ's Church three times a year. This puts other projects such as Relay for Life and woodworking on a back burner.
In mid August Denvy was feeling weak and sore unable to get up from weeding in the yard. Soon he couldn't raise his left leg at the hip and right left at the knee. Early medical exams, tests and imaging showed no specific cause. During the trip to Texas for the wedding of Chase Hurst he couldn't comb his hair or up on his socks. With physical therapy, persistance and time, things got better until in January a rheumatologist said his best guess is PMR and prednisone should help which it has (mid February 2019).